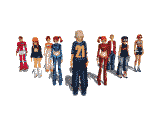 I'm quite excited to have my first Smashwords sale. I just signed up a couple days ago and today see my first e-book sale through Smashwords. Even better, it happened during Read an E-Book week. It makes me very happy to be able to participate in e-Book week in this way.
I keep hoping for more Kindle sales, but young adult is a tough market for the Kindle. It's kind of a tough sell to get a parent to shell out $359 for a device for a teenager, when all it does is enable them to read books or listen to audio books. What if they lost it?
Amazingly, more will spend the money to purchase their teen an iPhone or the iPod Touch, which have the e-book reader app Stanza. Now of course there is a Kindle app for these devices as well, so I may see a little more movement of e-books. I will say this, when I was a teen, the possibility that I would be given any one of these devices was less than slim-to-none. So, I'll live in hope of the e-book sales, but keep plugging away with pushing paperback sales.
———————————————————————————————–
LK Griffie
Visit me at Griffie World
To buy Misfit McCabe, visit my store at Lulu.com or purchase at Amazon.com
To track Misfit McCabe across the country, visit:
Where in the World is Misfit McCabe?
Own a Kindle? Download Misfit McCabe
in an instant.
For other e-book formats, visit Smashwords.com
To read book reviews by LK Griffie, visit: The Lulu Book Review