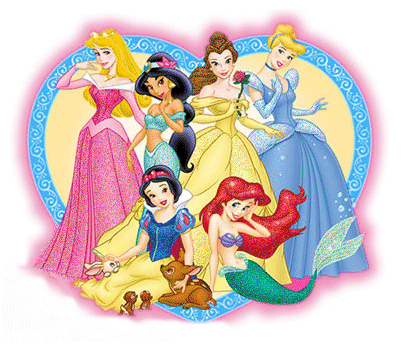 Today was errand day, as is my usual Saturday. But I added an additional stop to my normal Saturday running around; a beauty supply place. While I do not resemble any of the princesses pictured here, my one shout out to vanity is having my nails done every two weeks. My normal color is a neon hot pink, and the last time I had the nails done, my bottle was getting too old and too empty, so it was time for some more.
I know what you're thinking: Who cares? Right? Well, it just so happened that when I went to the counter to purchase my new bottles of nail polish, the clerk started to read my shirt. (I have a shirt with the cover of Misfit McCabe on it) So when he asked, I told him it was one of my books, that I was a writer of young adult fiction. (And this is exactly why I have the shirt – I'm terrible about promoting myself, but if I'm a walking billboard, then people ask and it reminds me to promote my work.)
His next question gave me pause. He wanted to know whether I wrote the heavy romance kind (meaning sex) or stuck with throwing in as much foul language in as possible. I answered the question, and explained about my books (the answer being no to both the explicit romance and foul language questions.) But as I walked out of the store, having helped to educate a tiny bit that the young adult genre extends beyond sex and bad language, the experience made me wonder if that is what has happened to young adult literature. Is that how the general public views the category? Have we gone so far in pushing the boundaries, that the general public comes to view YA as being R-rated?
Don't get me wrong… I am not proposing that some of the fine writing out there in the YA category is smut or uses language to up its street cred. And I'm not proposing that we sanitize the writing. Topics being covered may be tough to stomach sometimes, but they are a reflection of life. But have we forgotten about the kids who are not living on the edge, who want something to identify with, too? I will support every writers right to write their novel, and if bad language is required by the situation, then I accept and support it. If sex is involved because it is appropriate for the storyline, I will argue with anyone who says it should be cut. But if those thing are gratiuitous, then they need to go. Just like anything else in any novel which doesn't belong.
I'll admit, the experience rocked me just a little. On the surface, a simple clarifying question, but its roots are deep and disturbing.