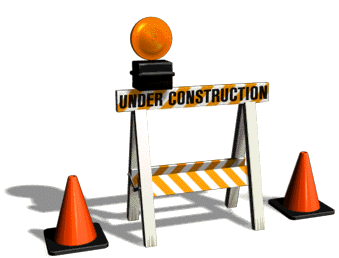 Griffie World, my main website will soon be under construction. I think I'm going to (finally) bite the bullet and upgrade it this weekend. So, if you stop by, please excuse the dust (isn't there always dust with construction?), and the two by fours laying all over the place. I want to get it torn down and back up as quickly as possible, so hopefully the interruption will be minimal.
Why am I revamping the site? Well, when I had just the one site, management was pretty easy and I was able to utilize existing software and knowledge to create the environment I wanted. But, I have now outgrown that format and want to add a little pizzaz, and I need to integrate my sites to have the same look and feel to them. With Griffie World Happenings (this blog), it will be a little easier and faster because the site is already in the right format for conversion to a new theme. This is the same for Where in the World is Misfit McCabe?, my traveling book site.
So, don't be surprised when you see the construction sign go up at Griffie World.
Oh, by the way, if you're wondering if I am avoiding working on Nowhere Feels Like Home, I'm not. It is still in the content/copy editing process by other people, so I don't want to make too many changes to it. The sequel to Nowhere Feels Like Home? Well, I have been working on chapter 1 (first chapters always go slow for me), but I don't want to get too far into it, just in case there is a drastic change which needs to be made to Nowhere Feels Like Home.
———————————————————————————————–
LK Griffie
Visit me at Griffie World
To buy Misfit McCabe, visit my store at Lulu.com or purchase at Amazon.com
To track Misfit McCabe across the country, visit: Where in the World is Misfit McCabe?
Own a Kindle? Download Misfit McCabe
in an instant.
For other e-book formats, visit Smashwords.com
To read book reviews by LK Griffie, visit: The Lulu Book Review