I can't believe I finally got my paws on the laptop again. I'd better not waste any time, but get right into it.
I hope everyone had a nice holiday. We had a good one, although, I do have to say, that I didn't get the one thing I really wanted.
In fact, I






for it with all of my heart and soul and even made puppy dog eyes.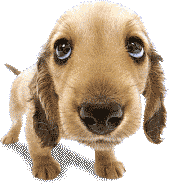 (Something I never resort to.) And all to no avail.
What was I asking for? My own laptop with pawprint detection software. I kept telling Mama that if I had my own, I wouldn't have to sneak in and borrow hers quite so often. But, my magnificent pleading fell on deaf ears. Mama just said that the economy was too bad and that dachshunds didn't need laptops anyway. I was hoping that Santa would fill the void, but no such luck.
Anyway, on to more important things. Have you heard about that little girl up in Oregon who is helping to feed hungry dogs? (Ok she's feeding hungry cats too, but we don't have to talk about that.) When I heard about that, I started planning my ambush to steal Mama's laptop away so I could let everyone know. The site kind of works like the free rice site that gives you questions and for every correct answer will donate 10 grains of rice to someone who is hungry. That may not sound like a lot, but it adds up, especially once you start filling up bowls.
Anyway, Free Kibble (http://www.freekibble.com) has a daily trivia question, and will donate 10 pieces of kibble to the Humane Society of Central Oregon, whether you get the question right or not. The whole thing is you only can play once per day, so you need to play every day, and maybe learn something in the process. (Oh yeah – they have the same thing for cats). Kudos to Mimi for thinking up such a special thing. You may have noticed that I added a couple of banners for free kibble to the left on my blog, so go ahead and click and play.
Let's give Mimi and her love and care of hungry dogs a 5 Paw Salute!







Until next time. Paws Up!

Copyright 2009 © Phoenix with a helping paw from Gryphon and a distracting paw from Elsa
About the Author:
"Just call me Your Highness" ~ Phoenix
_____________________________________________________________________
Here's information about my Mama's stuff:
Visit us at Griffie World
To buy Misfit McCabe, visit my store at Lulu.com or purchase at Amazon.com
To track Misfit McCabe across the country, visit:
Where in the World is Misfit McCabe?
Own a Kindle? Download Misfit McCabe in an instant.
For other ebook formats, visit Smashwords.com
To read book reviews by LK Griffie, visit: The Lulu Book Review