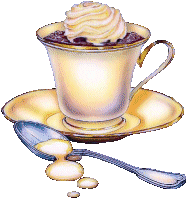 LK Griffie will conduct an author reading at The Retreat, Monday, September 6, 2010. Time: All day long
Opening the door, the heady scents of coffee and hot cocoa greet you. Chocolates are spilled on every table and a hint of cinnamon from the freshly baked rolls wafts through the air. Every where you look, people are either reading or are in little clusters discussing young adult books. For the lover of young adult books, you have reached nirvana. The place is The Retreat, a virtual coffee house for kids and YA authors and readers.
The Retreat is a thread started by R. G. Cordiner in the Kindle forum on Amazon.com. Discussions are not limited to books on Kindle, but are open to all YA books. Here's a snippet of the opening posted by R. G. for The Retreat:
Welcome to The Retreat. This is a virtual coffee house and chocolate shop. A place for people to meet, read and chat about books aimed at kids and young adults. The unlimited coffee, relaxing music and delectable Lindt chocolate should ensure that this remains a positive place. Heated debates and drive by spamming have no place in The Retreat.

We are neither a bar nor a bookstore for adult focussed books (although I'm sure plenty of adults do read our books :)) – I can personally recommend Al's Place and The Spinning Wheel as two fine establishments for those discussions. Unfortunately we do not serve alcohol as there can be quite a few kids around at times!

I welcome all readers and authors – I would love to invite all authors of work suitable for kids or young adults to come along and chat to your readers at one of our author readings – a great chance for authors and readers to get to know one another.

R. G. Cordiner is the author of Treasure Lost and Candy Wars: The Tooth Fairies vs. The Candy King which are both suitable for Middle Grade readers. He deserves a big thanks for putting together the retreat and being so hospitable to everyone who enters. One of the features of The Retreat, apart from discussion of some of the most awesome books around, is author readings
How does an author reading work? Well, Mr. Cordiner invites authors to select a day, and on that day, post a bio and a selection from their book, and then anyone visiting comments and interacts with the author. I love the concept because it provides one more avenue to talk about books, get feedback, gives us an opportunity to interact with other authors and readers, and best yet, it's all about young adult books.
As I posted above, I will be conducting a reading of Misfit McCabe on Monday, September 6, 2010, so stop by The Retreat and have some chocolates and coffee and let's talk books.
While the reading at The Retreat has concluded, you can still stop by, read the posts and ask any questions or make comments. Hope to see you there.